Climate Grief
Posted on March 03, 2023
Categories: General — Tags: none
I'm not a climate scientist. I have no deep insights about what's going on and where we're going. That said, it seems to me that the climate is growing increasingly erratic.
I used to live up in Prince George. In ye olden days, long before I moved there, there would be a cold snap in early winter that would kill off much of the mountain pine beetle population before they had a chance to build up antifreeze for the winter. Instead, their numbers started increasing, and by the mid 2000s they'd killed off vast chunks of forest in British Columbia.
In 2016 I went to the local sci-fi/fantasy con in Vancouver. I sat in on a panel about climate change put on by an actual climate scientist. I forget most of what he talked about, except for one thing: It's the temperature difference between the polar air and the subpolar air that powers the jet stream, and as that difference shrinks due to climate change, the jet stream weakens. It doesn't stop, but it becomes more inconsistent.
Not long after that we started hearing about polar vortices, when the jet stream would lock in a weird shape and a tonne of cold air would go unusually far south. At the same time, the other part of the continent would experience unusually warm weather.
Then we started having more days of forest fire smoke. That went from never happening in Vancouver to being a regular occurrence. Undoubtedly this is in part because of the pine beetle and poor forest maintenance, but it's not good.
Then we had the heat dome in 2021. I mentioned in my write-up for the year, but it can't be stressed how unusual it was. An ordinary hot summer's day in Vancouver should be around 27 or 28C. During the heat dome, it was still 30C at night. People died — mostly the elderly — because they couldn't cool off.
Six months later, in November 2021, it rained so much that every road connecting Vancouver to the rest of the country was washed out. If it weren't for the US highway system, we would've been completely cut off.
In summer 2022, Vancouver was drier than Las Vegas. Summer didn't end until mid-October, and a few weeks later we had a cold snap. The drought was so severe that as of December 1st, 2022, the only part of BC that had fully recovered was Haida Gwaii.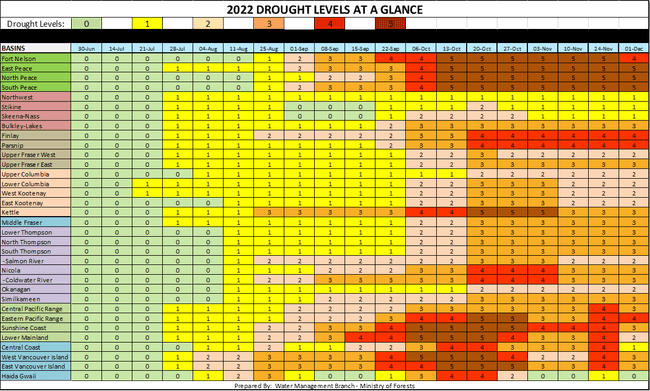 Source: British Columbia Drought Information Portal
(Annoyingly, "[d]rought updates have concluded for the 2022 season and will resume in spring 2023." Hopefully everything will be green by June.)
This is all anecdata. I need to compile actual numbers to share with ya'll to make a real argument. But things seem to be getting worse. I'm sad that my niblings in Alberta will grow up thinking it's normal to stay inside for a month each summer because of the smoke. I worry that we're going to experience food shortages as food-growing regions are affected. These are scary times.
---