Return to Yarrland!
Posted at October 16, 2019
It took me nearly four years, but I finally went back to Ireland! The excuse for the visit was Dublin 2019: An Irish Worldcon, which is why I went in the middle of the high tourist season like a fool, but nevertheless I had a great time.
Firstly: I've been trying to minimize my carbon emissions. That doesn't pair well with flying. The convention was my excuse, and I amortized the carbon cost by staying overseas for four weeks, and exclusively travelling overland while there. That's ultimately why I chose to spend my time in Ireland (mostly around Dublin) and Great Britain.
So… Dublin. It was good to be there. Walking around brought back a tonne of memories — nothing profound, more along the lines of "I remember that! I topped up my Leap card there once!" Things had changed, but most of what I considered "my" Dublin was still around. I checked out the old 'hood1, took pictures of the canal2, wandered through the parks3, got annoyed at all the tourists on Grafton St and College Green. It was like old times.
For my two weeks in Dublin, I booked a room in the dorms at Trinity College Dublin. That worked out great: it's central, it was reasonably priced, and it gave me an excuse to pop into the Buttery for meals. This was one of my go-to spots when I worked on Westmoreland Street, and going there brought back a bit of my old Dublin self. Plus I used to walk through Trinity College nearly every day on the way to work.
The first few days there I, well, I actually worked. $WORK has an office in Dublin, so I went there and spent time with my Irish coworkers (read: distracted them and drank a lot of coffee). The office had moved from Temple Bar to Aungier Street (near my first hostel in Dublin), and has grown quite a bit since I left.
I also made a point of catching up with Dublin friends — that's right, I still have some. Mostly expats. The first night I went to the pub with a Canadian friend, who'd moved to Dublin the very same day as me back in 2015, and got a working visa and stayed. The second night I went out with American friends and got drunk off smokey old fashioneds. The third night, I … actually, I went back to Trinity, logged into work's VPN, and filed a bunch of jira tickets, because I was about to go on holidays, and I wanted to fill out some information for a project before I left.
More about the con next time!
Pictures: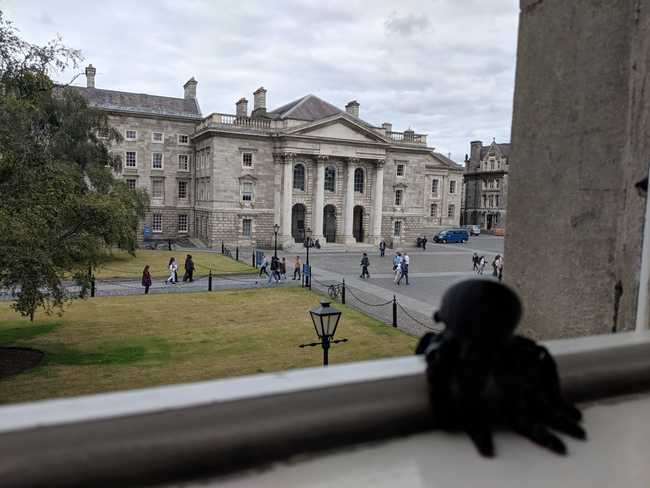 The view of Parliament Square in Trinity College Dublin, from the common room of my residence. The octopus in the foreground was a gift from Gavin, who thought it'd be something I could use for pictures. I have a few!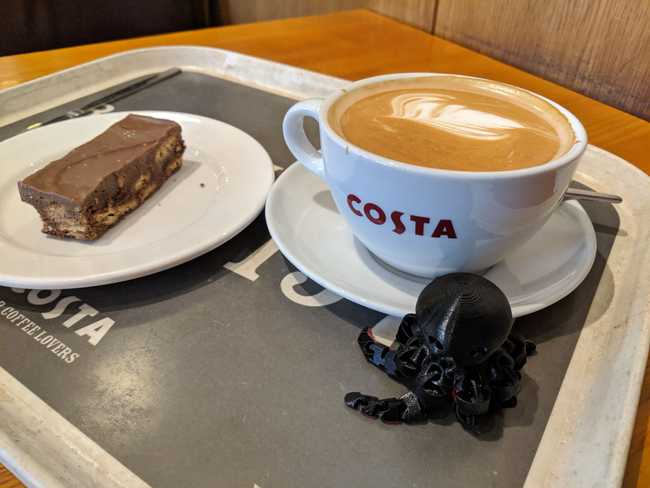 This was not my last Costa ever, huzzah! @ the Costa Coffee on College Green, my first evening in Dublin.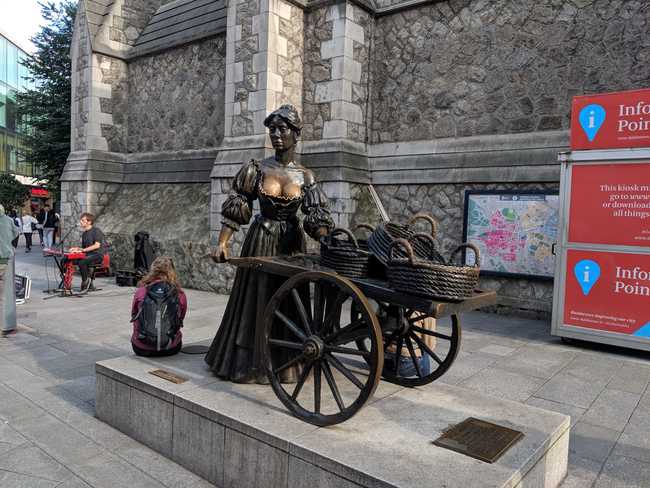 I walked past this statue nearly every day when it was still on Grafton Street, having to dodge around crowds of people taking her picture. I told people about this statue with its lovingly carved cleavage. It was such a part of my experience living in Dublin that I never bothered taking a picture of her.
Also, you can tell where people have been rubbing the statue. Oy.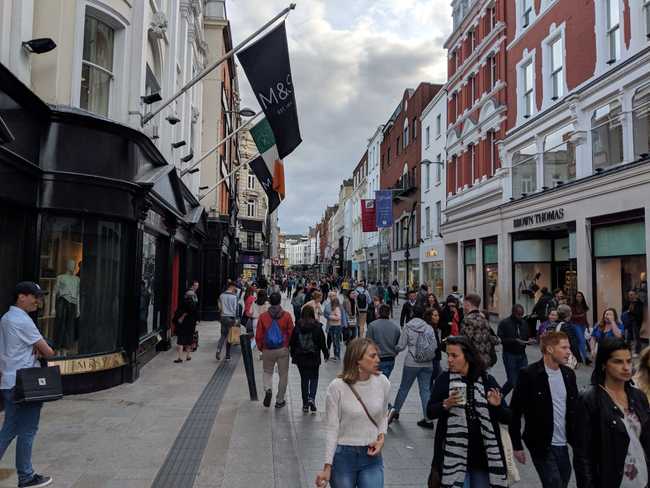 Grafton Street, as busy as ever.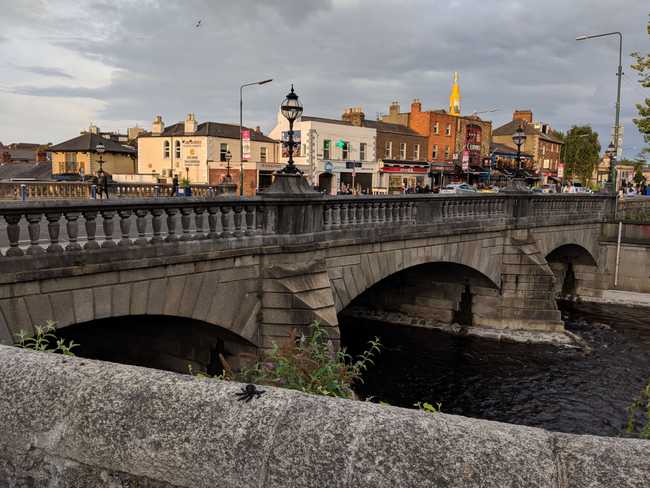 The Ballsbridge, or Droichead na Dothra. If I had more time, I would've liked to walk along the River Dodder down to Ringsend. I used to do that on the weekends sometimes, or go the other way to Herbert Park and Donnybrook.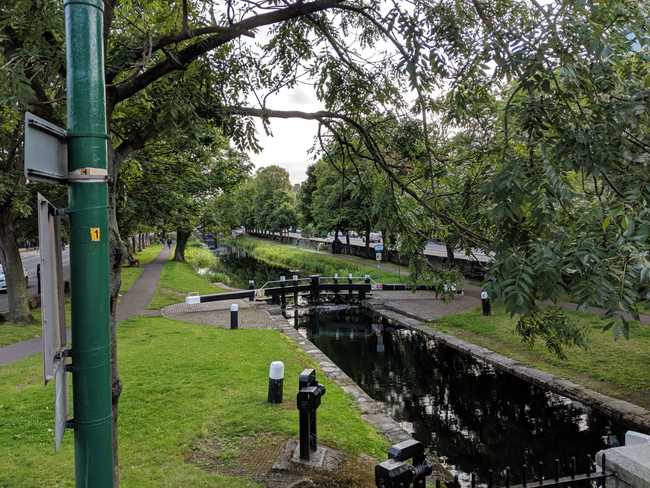 The Grand Canal by McKenny's Bridge (between Mount Street Lower and Northumberland Road). This is right near where I used to live.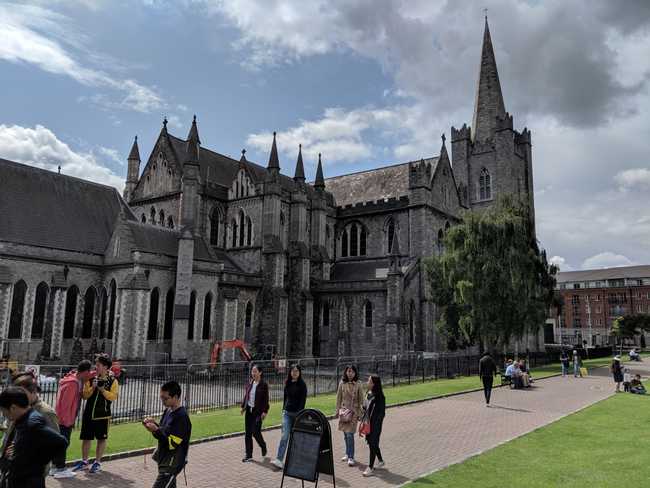 St. Patrick's Cathedral. It turns out the office is really, really close by. I sat there and ate a sandwich and a bag of crisps for lunch.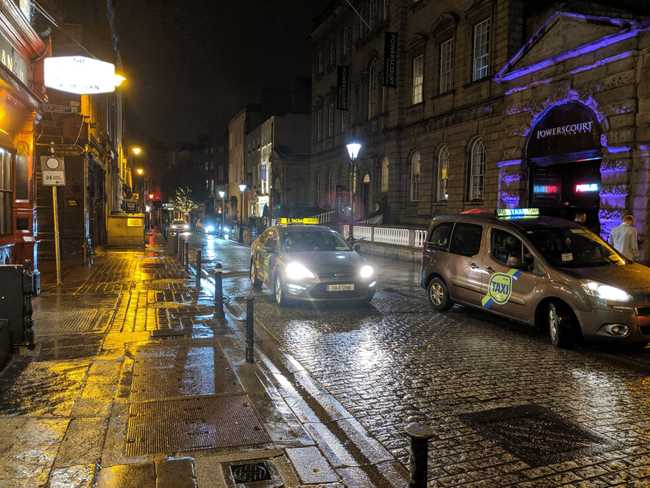 Taken while stumbling from P.Mac's back to TCD late Tuesday night.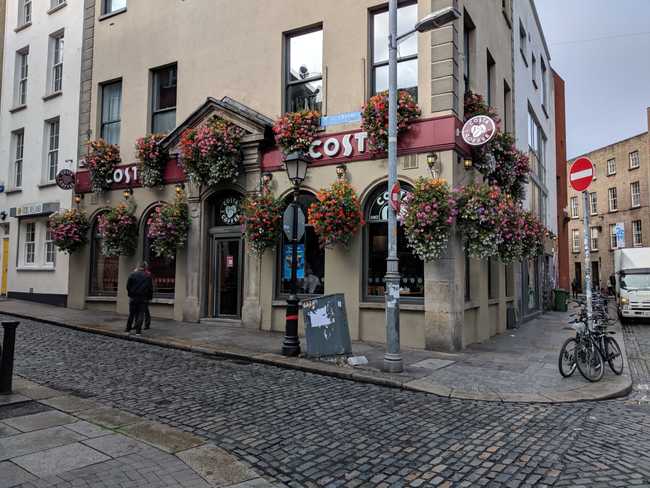 The Costa in Temple Bar, where I used to go nearly every afternoon. On Thursdays (?) there'd be a book market on Temple Bar Square. More of life should be going for coffee and looking at used books.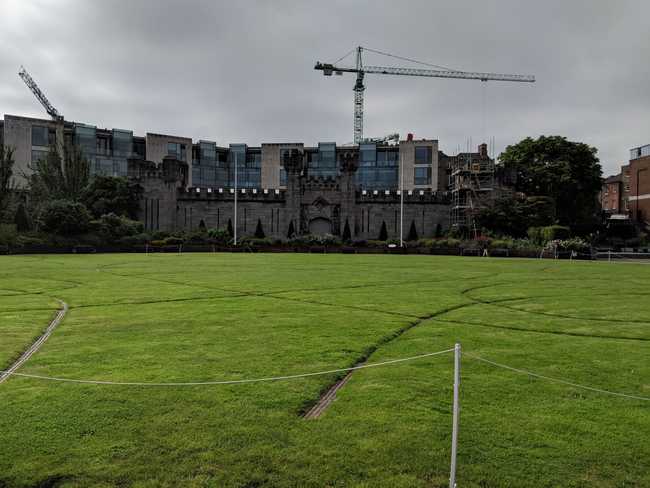 This is Dubh Linn Garden in Dublin Castle. Back in ye olden days, the River Poddle met the River Liffey here and formed a black pool, or, in Irish, dubh linn (or possibly linn dubh). That's the source of the name for the Viking settlement, Dubhlinn, which eventually became "Dublin". Whereas the Irish name remains Baile Átha Cliath, or "town of the hurdled ford".
---